User's case
How to handle OneDrive sync pending issue?
Hi, I have had a problem with syncing in One Drive. Some folders keep showing their status of being "Sync Pending" even though the One Drive icon on the task bar indicates "Up to date" status. I found a similar question and its relevant answers from the moderator and tried to apply the solution but it did not work at all. I feel so pissed off about it. Can anyone let me know how to handle this issue? Thank you!
- Question from Microsoft Community
With the popularity of Cloud Storage, many users turn to OneDrive (an online storage service from Microsoft) to store their data. But in the process of using OneDrive, users will also encounter many problems. Sync pending is just one of them, it happens when you use OneDrive to synchronize files. This article will detail its meaning and 3 quick fixes to resolve this problem and help you sync files normally.
What does sync pending mean on OneDrive?
Sync pending means that a folder or file is waiting to be synced. This is usually due to numerous folders and files waiting to be synced. OneDrive offers a limit on the file uploads size. When the uploaded file exceeds the upload limit, the "Sync pending" will occur. Sometimes a file may be stuck and never sync.
What's more, poor network connectivity can also affect the sync process for OneDrive. Also, if you want to synchronize files to OneDrive, you must ensure that the space on OneDrive is sufficient, otherwise sync pending or other problems may occur.
How to get rid of OneDrive sync stuck? If you encounter such issues, don't worry. In the following, I will introduce three ways to help you solve it.
How to Deal with Windows 10/11 OneDrive Sync Pending
In this part, you will learn 3 ways to solve the OneDrive sync problem.
Way 1: Pause and Resume Syncing Process
Step 1. Right-click the OneDrive icon in the taskbar, then click Pause syncing in the context menu. And then select 2 hours.
Step 2. Open the storage path of OneDrive and find its sync folder. Then select a file to drag to the desktop.
Step 3. Back to the taskbar and right-click the OneDrive. Choose Resume syncing in the right-click menu. Then we can see if the OneDrive is syncing normally.
Way 2: Reset OneDrive
If we encounter sync pending on OneDrive, we can also try to reset OneDrive. There are two methods provided below:
#1.

By Search for Run
Step 1. Search Run in the taskbar search box and then press enter.
Step 2. Type the following command and press OK.
>>%localappdata%\Microsoft\OneDrive\onedrive.exe /reset
Step 3. In case the icon on the taskbar does not appear in a few minutes, you need to execute the following command.
>>%localappdata%\Microsoft\OneDrive\onedrive.exe
When the execution is done, we will notice the blue arrow on the OneDrive icon. This means that the file is being synchronized. After the synchronization is complete, check whether all files are synchronized correctly and whether the problem is resolved.
#2.

By OneDrive Setting
If the above method is not feasible, you can try to use OneDrive settings.
Step 1. Right-click the OneDrive icon in the taskbar, then choose Settings in the context menu.
Step 2. After that, you need to turn to the Account window in the OneDrive settings and then choose "Unlink this PC"
Step 3. Provide your permission to unlink OneDrive in the confirmation window.
Step 4. OneDrive setup will appear again, you need to complete this wizard and set it up.
Way 3: Uncheck OneDrive Files on Demand
According to Microsoft users, unchecking OneDrive Files on Demand is a very useful method if your OneDrive files or folders show a Sync pending error. And your situation may be a little different.
#1: OneDrive Files on Demand is checked previously. In this situation, you can directly uncheck the Files on Demand feature.
#2: OneDrive Files on Demand is unchecked previously. This may be a little more complicated, you need to check the Files on Demand feature in Microsoft One Drive and then uncheck it.
Here take Situation 1 as an example to show you the detailed steps. If you are in Situation 2, use the following steps as reference.
Step 1. Open OneDrive and go to the Settings tab.
Step 2. Scroll down to Files on Demand, Uncheck Save space and download files as you use them, and click OK to save changes.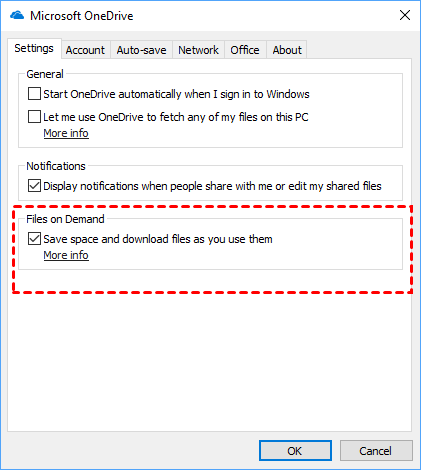 Then, all files or folders stuck in sync pending status are able to finish finally.
Way 4: Using Free File Sync Software
If the above methods cannot solve the OneDrive sync pending problem, I strongly recommend you the third method. As long as you use this software, you will not encounter the above-mentioned problem and other OneDrive sync problems.
AOMEI Backupper Standard is the best free file sync software. It helps you copy certain files and save them on the specified location via certain rules. Meanwhile, all Windows PC operating systems like Windows 11/10/8.1/8/7/Vista/XP are supported. Why is AOMEI Backupper favored by most users? Here are some reasons:
◑ It provides different sync modes – "Basic Sync", "Mirror Sync", "Real-Time Sync" and "Two-Way Sync" (The last three modes are available in Professional version). Click here to learn the differences between Syncs.
◑ It can easily synchronize files to multiple storages, including cloud drive, NAS device, external drive or USB drive, etc.
◑ It can run automatic sync for data that are changed frequently.
◑ It offers many other powerful functions, such as system backup & restore, and create bootable media, etc.
If we encounter sync pending problem when using OneDrive, we can easily solve it with this free software. First, download and launch it. The detailed steps are as follows:
(PS: This version only supports Windows 11, 10, 8, 7, XP, Vista. For server users, try AOMEI Backupper Server!)
Step 1. Click Sync on the left panel and select Basic Sync.
Step 2. Next, you need to click on the option of Add Folder to choose the files from the hard drive that you want to sync to OneDrive.
Tips:
◑ If you want to sync multiple folders simultaneously, click the "+" icon after you add the first source folder.
◑ Optionally, you can enable Filter settings (supported by Professional version) to include or exclude folders and sync files with a certain file extension instead of all of them.
Step 3. Click the inverted triangle at the right edge of the second bar and choose Select a cloud drive.
Step 4. Select OneDrive cloud and click OK.
Notes✍:
◑ If you cannot find OneDrive in the list, return to step 3 and manually navigate to the OneDrive local folder by clicking the folder-shaped button in the second column.
◑ If your OneDrive still has problems for file sync, you could consider sync local folder to Dropbox or Google Drive. For free users with a few GB of cloud storage, it's suggested to create a cloud backup with AOMEI Cloud, a cloud drive developed by AOMEI Tech, which offers 1TB free space from the time you sign up until 15 days.
Step 5. Click on Start Sync to perform the operation.
Helpful tips✍:
✬ Options: You can write a comment for your current operation, and set up email notification so that you can receive timely notifications about task results.
✬ Schedule Sync: You can automatically sync files daily, weekly or monthly, or use event triggers and USB plug in feature. The last two ones are available on the Professional version.
✬ Don't modify the source folder name, otherwise the software will not sync changes anymore.
✬ The Sync method does not support sync files larger than 2GB or 4GB. If there are files of these sizes, try the File Backup feature. It will split them automatically to fit the target drive.
Summary
When you are stuck with OneDrive sync pending issue, try the above three methods. In any case, the third method will be the best solution due to its simple operations and reliable functions. If your OneDrive still has problems, this software is able to sync files to other cloud drives like Google Drive or OneDrive, or external disk, USB, network drive or NAS device. And you are capable of syncing files between two computers without cloud.
With its Basic Sync feature, you can also create a Seagate cloud backup. And you can enjoy backup, restore, clone feature in this software. In a nutshell, with it, you will no longer have to worry about the future. Try it at once and protect your data now!