Solved: Windows Server 2019 RDP Freezes Issue
Solved: Windows Server 2019 RDP Freezes Issue
You can follow the steps in this article to solve Windows Server 2019 RDP freezes issue and recommend you backup your Windows Server in advance to prevent permanent data loss.
User case: How to solve Windows Server 2019 RDP freezes issue?
"Hello!I have a Windows Server 2019 Standard on a Dell Power Edge T440 server. I can connect to it via RDP, but after some connections, it stops working only a black screen appears. When this happens after the server's GUI freezes, the mouse and keyboard do nothing, same from local and from iDrac console. Only a full reboot helps, but every service works this time, only the GUI interface not. Here is no error in iDrac. If I do not connect via RDP only local logins everything works great. What can cause this? I tried the RDP from local network and from VPN, their result is similar."
This is a Windows Server 2019 RDP freezes issue encountered by a user. Maybe you are also like this user getting into trouble but don't know how to solve it. Then you have really come to the right place. In this tutorial, we will tell you how to solve this problem effectively.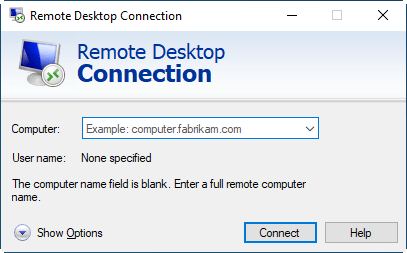 Why does remote desktop freezes on Server 2019 occur?
There could be several reasons why Windows Server 2019 RDP freezes occur. Some common causes include:
★ Network connectivity issues: Sometimes, RDP freezes can occur due to network connectivity problems. For instance, if there is high network congestion, it can cause RDP sessions to freeze. Similarly, if there are issues with the network hardware, such as a faulty router or switch, it can cause RDP freezes.
★ Driver issues: Outdated or faulty drivers can cause RDP freezes. For example, if the video driver is outdated or malfunctioning, it can cause the RDP session to freeze.
★ Resource constraints: If the server is running low on resources, such as RAM or CPU, it can cause RDP freezes. This can happen if there are too many active RDP sessions, or if there are other resource-intensive processes running on the server.
★ Security settings: In some cases, the security settings on the server may be too restrictive, causing RDP freezes. For example, if the server is set to block certain types of traffic, it can cause RDP sessions to freeze.
★ Software conflicts: If there are conflicting software applications running on the server, it can cause RDP freezes. For example, if two applications are trying to use the same resources at the same time, it can cause RDP sessions to freeze.
How to solve the Windows Server 2019 RDP freezes issue
After understanding why the Windows Server 2019 Remote Desktop hangs issue may occur, in this section we will show you how to effectively resolve the issue that RDP session freezes in Windows Server 2019 using Group Policy Editor step by step.
The Windows Server Microsoft Remote Desktop (RDP) freezes problem is attributed to the RDP protocol's reduced resilience to packet loss or out-of-order, and a bug in the Windows Server that hinders seamless switching between TCP and UDP protocols. As a solution, it's recommended to disable UDP and switch to TCP instead. In the following, we will outline the steps needed to turn off UDP and resolve the issue of RDP freezes.
Step 1. To begin, press the Win + R keys, and then type in gpedit.msc.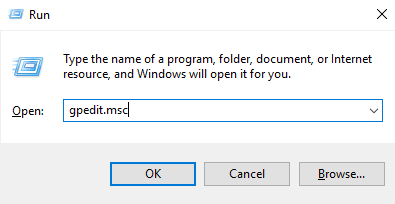 Step 2. Navigate to the Remote Desktop Connection client section by going to Computer Configuration > Administrative templates > Windows components > Remote Desktop Services > Remote Desktop Connection client.
Step 3. Next, scroll down until you locate the option labeled Turn Off UDP On Client.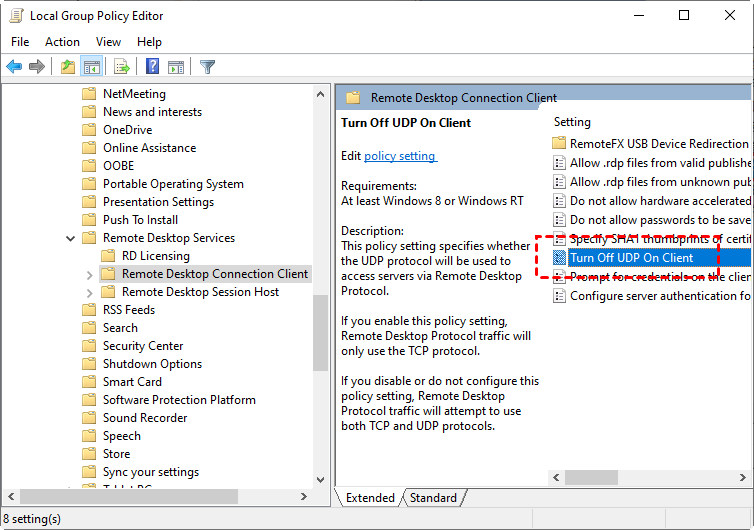 Step 4. Double-click on the Turn Off UDP On Client option, and then select the Enabled checkbox. Then, you can see if the Remote Desktop freezes on Server 2019 issue is solved.
Set a backup for Windows Server with the best Server backup software
Although the above method may resolve the issue of Windows Server 2019 RDP freezes, it can be a time-consuming and strenuous task to look for a solution for every distinct system problem that arises. To simplify this, a general solution is presented here that can be used to restore your computer to normal functioning in the event of any severe problem, including system freezes or crashes.
The solution is to utilize the best backup software AOMEI Backupper Server to backup your Windows Server. By creating a system backup with this software, you can restore your Windows server in the event of a system crash or booting issues.
To learn how to use this software as a general solution to system problems, follow these steps.
First, download and install the free 30-day trial version of AOMEI Backupper Server on your computer. If you're using a different version of Windows, you can use the AOMEI Backupper Standard or Pro version.
Step 1. Launch AOMEI Backupper Server and select Backup followed by System Backup.
Note: In addition to System Backup, you can also choose from other backup options such as Disk Backup, File Backup, and Partition Backup to create a backup copy of your target items.
Step 2. Choose a destination where you want to save the Windows Server system image.
Step 3. Configure the backup settings to meet your specific requirements by clicking on Schedule Backup and Backup Scheme. Once you have configured the settings, click Start Backup to initiate the creation of the system image backup for Windows Server.
Warm tips:
AOMEI Backupper Server also offers various backup methods, including full backup, incremental backup, and differential backup, with the latter two options only backing up changed files.
You can also choose from a range of backup destinations such as internal or external devices, USB drives, NAS, network drives, and cloud drives.
The software also supports automatic backups on a daily, weekly, or monthly basis, as well as Event triggers and USB plug-in. Additionally, it includes an automatic cleanup feature that deletes obsolete backup images to free up disk space.
Summary
In this article, we know the reasons why Windows Server 2019 RDP freezes issue occurs. And show you in detail how to solve this issue effectively. We also recommend you a good backup software - AOMEI Backupper Server to solve data loss, system crash and other problems. This software has a lot of functions and is simple to operate, and it can also create bootable USB for Windows Server. Try it now!