When you need to sync files/folders?
You may work on more than one computer, and often entire teams work on the same document. Imaging that you stored data on the computer, but you need to use the data on another computer, you may use a USB drive to move the data, but what if you need to change the data frequently? Another instance, your teams work on the same document, if you changed the data, and the data need to be visible to all users, you need to change the data to the same document too. Thus, you need to changed in two different places, which will annoy you a lot.
For those two situations, syncing files/folders on different computers automatically with a file sync tool can saves you from manually changing the changed data.
The best file sync tool: AOMEI Backupper
There are a lot of file sync tool in the world. And you need to choose one to work for you. When choosing the right file sync software, you should use a series of criteria to evaluate the tool's performance. Here you can take a reference system:
The features they supported: it should not only support file sync, but can set an automatically sync, and many other features.

The user's interface: it should have an easy-to-use interface so that users can operate it simply.

The reliability of the tool: technical issues should be very rare events so that users can use feel relieved.
Consider with those conditions, here we highly recommend you the AOMEI Backupper Standard, which should be the best free file sync tool--
It is a great file sync tool that supports you backup files/folders by file sync, no image file, and supports scheduled sync with daily, weekly, monthly, event triggers (only supported in AOMEI Backupper Professional and superior edition), even supports real-time sync.

Its intuitive interface is very popular in Windows users, because it is easy to operate that anyone can finish it alone.

It has a highly qualified engineers of AOMEI support team for prompt assistance. If you have any questions, e-mail them and they will respond you as soon as possible.

Besides, AIMEI Backupper is also a great backup and restore software which can protect your data from many accidents.
Here you can learn how to sync files/folders with his free file sync tool step by step.
How to sync files/folders with AOMEI Backupper?
How to sync files/folders with this free Windows file sync tool? here you can follow the steps below:
Step1. Free download AOMEI Backupper, install and launch it to your computer. It will show you its intuitive interface. Select File Sync under Backup tab.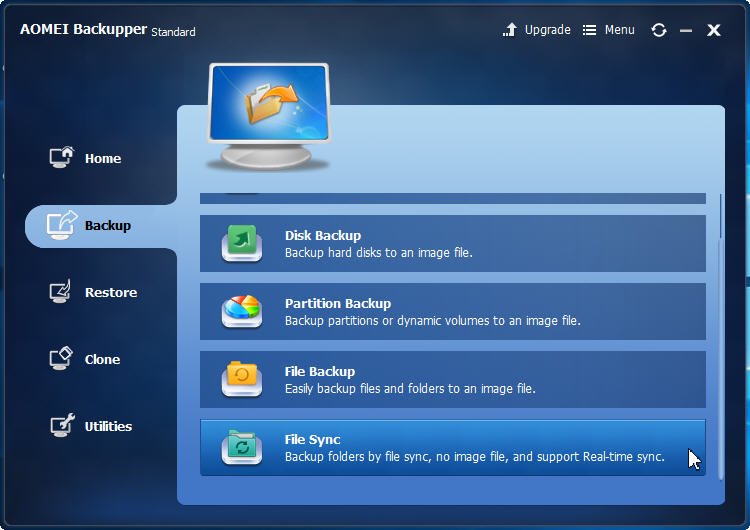 Step2. Then, you can clickAdd Folder to choose the folders you want to sync in the "Step1".
Then, click "Step2" to choose where you want to sync folders to. Here we selectShare NAS.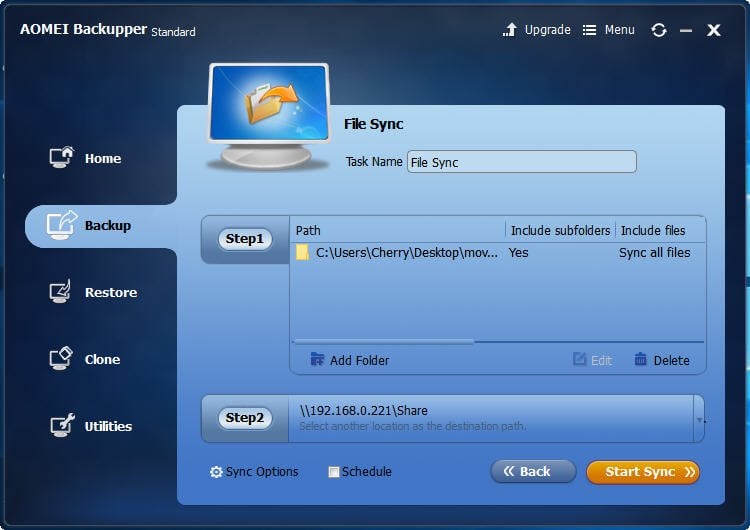 Tips:
The computer in the same LAN can reach the NAS to use the documents. It is an easy way to sync files between two computers or multiple computers.
Step3. Then, you can click Start Sync to execute the task. Before clicking the button, you can set up a scheduled file sync. Click Schedule, and you can choose the way to sync files automatically. Click Start Sync.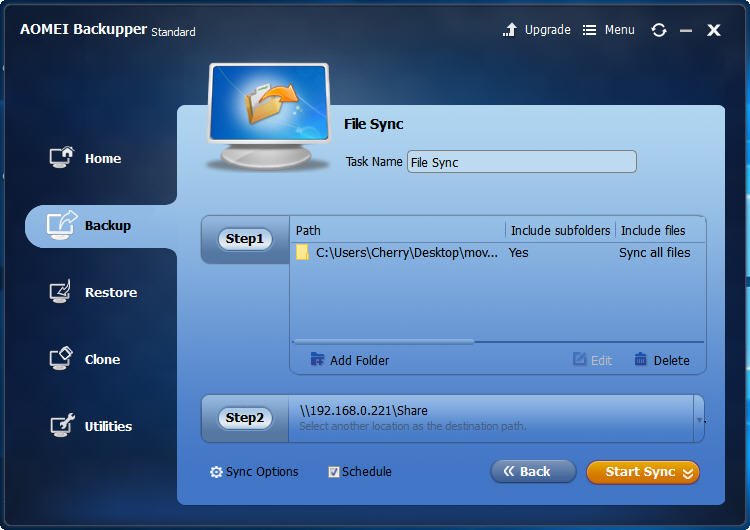 The task will be executed immediately.
AOMEI Backupper is more than a file sync tool. You can also use it to protect your data, like backup system, restore computer to earlier date when it necessary, and so on.